Better Be True: Harrison Campus #3
Two friends. One bed. A big Italian Wedding.
Nico Amato is in trouble.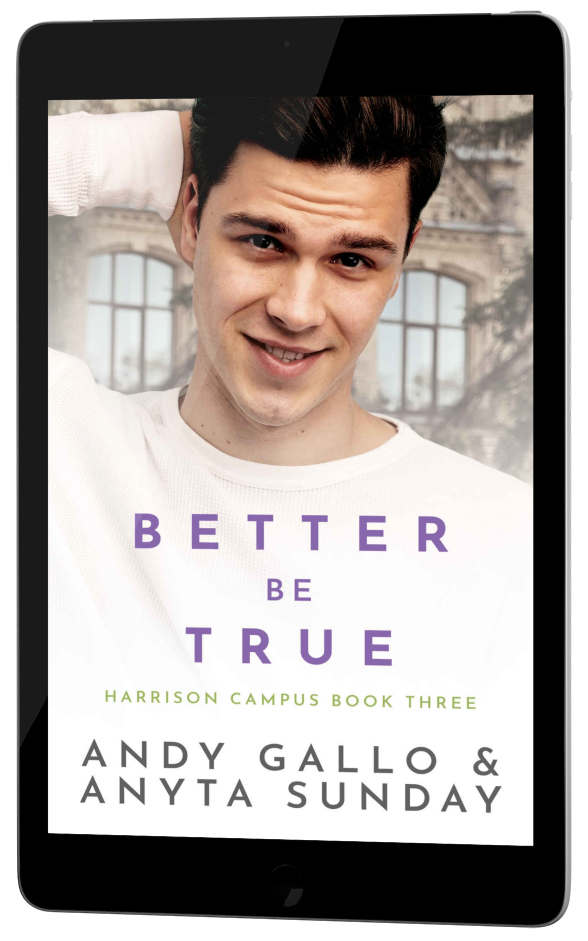 This is the bit where I thank you for coming to visit. It's not as good as visiting me at home—there you'd get something to drink and cake or cookies (I really am Italian American and it's what we do, we feed our guests.) Instead of food for your palate, I hope to provide you with food for thought. It won't be memorable like Dr. King or Winston Churchill, but I hope it will be entertaining and provide a few moments of escapism.
Many of you came here because you know me as Andrew Q. Gordon, but for those who didn't, Andrew writes Gay Fantasy and Speculative Fiction. Andy focuses on MM Romance. You might wonder why the split personalities. For the answer to that, I'll refer you to my first post on this site—Be My Friend. If you are a fan of epic fantasy, paranormal fiction without shifters or vampires, and the occasional urban fantasy, check out the ying to Andy Gallo's yang—Andrew Q.Gordon.
I plan to release more MM Romance or Speculative Fiction stories with more romance. For now most of them will be free, but look for new books coming soon.
In the meantime, poke around the site, read the "First Time" posts from some of my MM Romance author friends, leave a message on a post or email me at andy@andygallo.com.

I could not decide if I liked Nico or Luke better but I do know that it was wonderful reading the evolution of their relationship to a we. This was such a good story. Nico and Luke wind up sharing a one bedroom apartment in the City of Brotherly Love - and the start of other love - when both are dumped by the men in their lives in really deflating ways and inconvenient ways. But is was the best thing that happens to each of them because it leads them to one another when Luke needs to replace his flatmate in order to afford the rent. They are both stand up guys who deserved better than what they had and their time together gets them to realize what a good partner is in the many considerate ways that they show one another how to be considerate, how to supportive, how to be vulnerable and ultimately how to be a good partner. I loved Nico's family - Nonna was a hoot. They fell into a pattern of favors that had them dating without realizing how real their relationship was and what was best is how much they each accepted the other as is. This one was as good as a well filled cannoli. I wanted more of their story when I was done. I received a ARC from A Novel Take PR for an honest review, but I would have read this anyway because this is a series I have truly enjoyed.
Avidreader4ever @ Amazon Reviews